---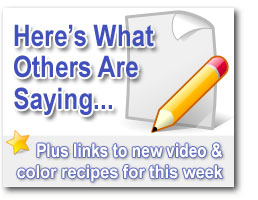 Cindy, I have found that your tutorials are so easy to follow and easy to understand. I prefer to learn by seeing and your videos definitely do that and more. I am so glad that I came across your website because I found that your videos and membership are so reasonably priced. Again, thanks for your hard work and I, too, soon hope to submit some of my works for your Spotlight. ~Catherine-R >> This comment was originally posted here: Polymer Clay Tutorials
I just wanted to say Thank You Cindy for all the tutorial Video's. Before watching your tutorial's I had some supplies but never really did anything with it. You gave me the confidence to start again and keep going :) I love your teaching style and have learned so much from you. I have learned much more from you than any of the books I have. ~Jennifer-M >> This comment was originally posted here: Making Polymer Clay Jewelry
My vote is for the video too. Like several have said, I could probably stumble through your written directions and do just fine, but there's just something about seeing it done that clears up any confusion. Not to mention triggering thoughts of other things that could be done in a similar fashion. ~Arlene-H >> This comment was originally posted here: Butterfly Wing Jewelry
If a picture is worth a thousand words, then your videos are worth billions! And now we can print them all on our beads with your great tutorial. Thanks a million Cindy! XOXO ~Jaime-H >> This comment was originally posted here: Polymer Clay Graffiti Beads
Cindy, Your course is better than reading a book because it is so much more helpful to actually see someone making and working with clay.  I would highly recommend to anyone wanting to learn about polymer clay to go through your video lessons.  It is also very helpful that each lesson is short and to the point. ~Katherine-B >> This comment was received via email.
Cindy I am a married to your videos – till death do us part or you quit. I hope to live a long time therefore I hope you plan to continue doing this even longer. I just get more and more from each video. Please if you ever plan to go onto something else find a way for us to purchase everything we have in our library first. I go back to the very beginning time and time again and learn more each time. I don't ever want to loose this valuable information. I have a ton of books and DVDs, don't get me wrong I love them all. But there is something special about you talking me thru your lessons. If I have a question at anytime I can just email you and know you will have the answer for me asap. That is something I can't do with my books or DVD's I am so glad I found you and even happier you present these lessons in the method that helps me the most. As long as you continue to produce I will continue to watch. Teach away. ~Peggy-B >> This comment was originally posted here: Polymer Clay Videos
I am a member there and HIGHLY recommend her site for anyone. I have finally learned several things just by watching her Videos that I could not understand prior. If, you need anything she is always there with an answer or will find someone that can do it. Check it out and the Membership is very reasonable. ~Donna-I >> This comment was received via email.
Hi Cindy, thanks for the opportunity to offer feedback on the intro course. I found it great, succinct and very good at showing all the basic "stuff". Money well spent for a 'show me' learner. ~Hope-N >> This comment was originally posted here: Polymer Canes and Beads
Cindy – Just getting ready to start the color section of your bead making video course.  What I would have paid to have these tutorials to have started with at the beginning!!!  When I think of all the hours I wasted trying to figure out how these techniques and tools worked….from books (ugh! always too short and not enough pictures) or from TV (too fast, too much left out), it almost makes me want to cry. LOL! —  For someone just starting, wow.  Talk about a jump start into being able to create beautiful objects.  Going to be able to test out this with a friend of mine soon.  She loved the stuff I showed her, and being another photographer, loved the idea of creating beaded slip knots to be able to adjust her camera equipment.  So, for her birthday in Sept, her husband is giving her membership to your site and the bead course.  Will be fabulous to watch someone artistic start from scratch with your courses, blog, and tuts and see what she does.  —  The drill bit section was particularly notable.  Never had thought of or seen someone turn these into tools.  For me, the use of power tools will be a little risky with the hands, so this technique opens the door for safely adjusting bead holes without a hole in the hand via the Dremel.  Just took a good sized chunk out of my thumb yesterday wiping a kitchen knife clean while slicing my tiny yellow plum tomatoes for drying (yum, so sweet) so caution is something I really need to apply when I start with the process again this winter.  Definitely hauling out all my old bottles of red nail polish and marking the tissue blades right end up before I set to work too.  —  Another tip I am going to start using religiously is tearing the clay in half, then rolling through the pasta machine.  Always folded and put the folded end in first, but, thinking back, I think using that method is bad, bad, bad.  Introduces way to much air into the clay, and your way is just as fast.  Actually, it's fun, LOL!  I like tearing it, and looking at the inside, comparing it to the surface.  —  Well, time for bed.  Thanks to you, the bead courses and your site, today was exhilarating. Fondly always. ~Jocelyn-C >> This comment was received via email.
Cindy – I  am really learning a lot about polymer clay from your videos and wish I had found your web site sooner. ~Cheryl-B >> This comment was originally posted here: Polymer Clay Tutorials
I love your online videos and look forward to them every week. There is no way that I wouldn't renew my membership. Look forward to future postings and new ideas. Apart from more caning advice which will be covered in upcoming courses, (that I would definitely buy) I would love to learn how to make more flowers in the future. I love the flower jewellery of the 40's and 50's, especially the vintage Japan and West Germany beads and necklaces. I think if you know basic technique then you can experiment and perfect a certain style. I am definitely learning techniques from you and am successful at the new things that I am learning. That is a testament to a very good teacher. So thanks again- all the best. ~Cara-L >> This comment was received via email.
I have seen many step by steps on swirling beads but I could not get the concept  no way. In this case, it was really vital for me to watch  the movements of the hands. It can not be explained by words! All the best. ~Monica-D >> This comment was originally posted here: Polymer Clay Tutorials
Hi Cindy – I have not viewed all the videos yet due to schedule/time constraints. The ones I have viewed are great and helpful even the parts I know something about have made things clearer. Seeing how things are done gives a sense of confidence that I can do it. ~MJ >> This comment was received via email.
Hi Cindy, Just love all the videos I have been watching lately. The Gerbera cane has been a hit and I have watched it a dozen times and have made and remade it. Love the Butterfly pendant made with the leaf shapes. I am so enamoured with it sent away to buy the leaf shapes and will be doing that next. Love the Dogwood flower cane and am now attempting more flower canes because of your great tuition on how to. Will be back with pics when I get some work done. ~Elizabeth-K >> This comment was originally posted here: Dogwood Flower Polymer Clay Cane Project
Hi Cindy, I would like to respond to your request for feedback about the beginners course that I purchased. I can't think of any thing to say that could improve it, except do a second one, LOL. However, I can state how the course has helped me as a beginning clay-er.  Your step by step visual from how we are to sand, what products to use, the types of clay, conditioning the clay, what equipment, the introductory to caning, marbling and blending colors is priceless. Also having access to this course when needed is so valuable that I don't think words do it justice, as I couldn't remember all the information you have provided when I need it.  I love this course, being able to SEE it is far more than the instruction I have seen on the internet in words only.  You explain things so well.  I have learned to set up my work area watching your course; I have bought each item you suggested (even though I bought a lot of Sculpey III BEFORE I got the course). Even though I have viewed the course a number of times, each time I come back, I see something new. I love it, keep up the good teaching. ~Ifama-J >> This comment was originally posted here: Butterfly Pendant Jewelry
I so love your videos and look forward to every Friday! When your a mom and house wife, everyday is Monday! LOL. Fridays are my favorite day of the week. ~KlayKisses >> This comment was received via email.
Hi Cindy I sent you a e-mail yesterday because I was worried that I did not receive the new video. Thank God I know why now. What a relief. Anyway I will be waiting for next Friday. Thank you for all the lessons. I have learned so much from your videos. You make them so easy to understand. Thank you!! ~Carment-V >> This comment was originally posted here: Polymer Clay Tutor
I  just subscribed to the videos. Following a video is MUCH easier than trying to make head or tails out of a few paragraphs of instruction. Great idea!! ~Linda-L >> This comment was received via email.
I'd like to see a video about making headpins. (The more ways I can learn something — reading, seeing, hearing, doing — the better!) And I agree with Ken about having a how-to on making a post for stud earrings. Thanks! ~Linda-D >> This comment was originally posted here: Making Copper Findings
I have been subscribing to Cindy Lietz Tutor since about October '08. Her daily blogs are free to all and I find them very informative. Cindy does not try to cram in too much information and is excellent in presenting in a concise, organized and informative way. Her video tutorials are very well done; picture quality and content are excellent. Cindy and husband Doug do photo editing before posting a tutorial and do a lot of close up shots in a variety of angles of a bead or project; I am sure a lot of footage "ends up on the cutting room floor." As in her daily blogs, she does not repeat what others have already covered but does does research and tries techniques before posting a video showing what she has found to be most successful. As a paid subscriber, I love the color pallet recipes and don't know where else to get anything like them. I am confident she has tried out recipes before posting them on her site. How does she know White and Gold Fimo produces a better combination than White and Gold Premo?  You asked if $9.95 for three months is a good value. To me, it is an excellent value because of the above stated reasons. I have been following this site on a daily basis long enough to know the blogs, recipes and videos have saved me a lot of frustration, discouragement and money through techniques that save time and materials. ~Anna-S >> This comment was received via email.
---