---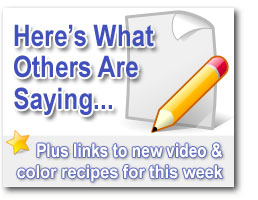 Oh Cindy: I just watched your video on the Tear Drop Method. I have two words: Brill-yant! What a great technique, and I hope it gets known as the Lietz Method throughout the polymer clayniverse. Thanks for sharing. ~Deirdre-R >> This comment was originally posted here: Modified Rainbow Skinner Blend Tutorial
Once again another wonderful time saver. The extruder in my studio will now lives next to the pasta machine. I also appreciate the tip about surrounding the cane with thin sheets of translucent in steps. I can see where this will assist in the compression of the flower without distorting.  I am blessed for finding you Cindy. ~Illaya-B >> This comment was originally posted here: Clay Extruder
Cindy, I love the stylized version of the ammonite shell. I have a few pieces with the real fossils, but would love to make some like these. I think they would look great with all sorts of metals. Thanks for your terrific instructions on so many wonderful techniques. ~Rita-R >> This comment was originally posted here: Faux Fossil Shell Beads
You are a genius! It's like one of those "why didn't I think of that" moments when you smack your head and say "duh" as soon as I saw the pic in your article of the teardrops is was so clear! You rock! ~Linday-W >> This comment was originally posted here: Modifed Skinner Blend Teardrop Method

WOW all I can say is WOW.  Thanks for the tip, I just finished making some thread beads and they really turned out great.  After their sanded and polished I will send you pictures.  Thanks again.  Please keep the tips coming. :o) ~Paul-A >> This comment was originally posted here: Mixing Thread Fibers with Handmade Beads
Cindy, Thank you so much for answering this question for me!  I am learning so much from you.  You are so good to all of us…you ALWAYS get around to answering our questions!!!  I just do not have any idea as to where you find the time…you are a gem for sure!  I believe I will try the method that you mentioned first…it sounds like there will be less chances of problems if I first bake a "scrap bead" and then cover it with slices of cane. ~Cindy-E >> This comment was originally posted here: Polymer Canes
This is a WOW for me.  I love skinner blends but HATE things that take a long time to achieve….so this is PERFECT for me.  Did I mention WOW? :) BTW…Thanks to Anna a few posts ahead of this I now just HAVE to subscribe to the videos. ~Andrea >> This comment was originally posted here: Lietz Teardrop Method
Hi Cindy… I'm so glad you made the video about Dremel tools. I got a brand new one for Christmas and was just waiting for a good reason to use it! I love all your videos and your articles. I'm waiting till payday to subscribe and I will let you know how I like the rest of the course. Thanks again for helping all us Newbies. ~Suanough >> This comment was originally posted here: Polymer Clay Beginners
Thanks so much for this wonderful addition to my polymer clay experience! I've been experimenting with doing rainbow skinner blends for various projects, but they haven't come out the way I wish them too. Probably due to the fact that I am awful with math and measuring hehe. The teardrop method is a lot easier and I can't wait to make my spring items with it! ~Christina-K >> This comment was originally posted here: Polymer Clay Canes
Cindy – I love to use your ideas and transpose them to my work. I just made some clothes for a fairy with fimo coloring with the inks. I ended up putting gold leaf on top of the clay, but it gave a good back ground for the gold. ~Bonnie-J >> This comment was originally posted here: Translucent Sculpey Clay
Hi, Well after reading about the rock polishers I decided to give it a try. I tried all the suggestions everyone gave. I had very good results with the rocks and water. With my tumbler came the powdered sandpaper. So I decided to throw a couple of tsps in with the rocks and water and let them tumble about 6 hours. I liked the results so much, that I cleaned out the tumbler and put the rocks, beads and a few tsps of the polishing powder and tumbled for another 3 hours. I took them out dried and buffed them. The shine was incredible. Thanks for all the wonderful tips. ~Jackie-N >> This comment was originally posted here: Shiny Polymer Clay Beads
[Excerpts From A Lengthy Comment] Your letter of "Thanksgiving" was very loving, and so touching… To me, it's always so gracious to be able to pray a prayer of Thanksgiving, for all of our Blessings — my life (after this past September) is what I am Thankful for this year. My summer with my Grandchildren, one of whom is Autistic; the other with Attention Deficit, and my Sweetheart stuck in the middle. She is my budding artist, and we have so much in common (including working in clay). So, I do understand where you are coming from. It sounds like you have a nice life, and I'm very happy for you. I pray that this new year of celebration will grace you with another year of the best. In any event, you are a very nice lady, and kama speaks volumes.  …Thank you again for the new things that you placed on hand. I just loved looking at the gold/silver/copper leaf information, and plan on doing something with it… Just finished weaving a gorgeous Lauriat and Earrings. Was thinking to myself, wouldn't this look great with one of my own created clay beads attached to it (once I learn)! (I'm dreaming, but it will come to fruition!! Actually, the pendant on it can be utilized two-fold — as a brooch as well. I AM SO BLESSED, AND YOU ARE TOO!! Sincerely. ~Diana-QM >> This comment was originally posted here: Thanksgiving Arts And Crafts
Cindy and all. Wow…I am speechless. Ask and you will receive in spades!! Thank you so much for all the creative ideas. Now if I only had more time to jump into the mountain. Yes Cindy I have decided to keep it, but if it starts to take over the house. ~Sam-M >> This comment was originally posted here: Polymer Clay Projects
I wish I knew this 40 years ago. I would have saved and dried flowers from various occasions. If the flowers change color do they get darker or lighter? If lighter maybe you could dry them and then add the ink dye to them then add to clay. Maybe that is a crazy thought but I was just thinking……… Thanks again Cindy, now I will save them. ~MaryEllen >> This comment was originally posted here: Making Keepsake Flower Beads
Okay, this is the COOLEST thing ever! I was Googling image transfer because some months ago I had found a semi-tutorial (I say semi because the video portion missed out all the important steps, but there were more detailed instructions in text) but the process required a special product. I stumbled upon your site, and everything I needed was in the house or easily gotten in town – even in little Penzance! I've spent about an hour making 8 different pendants, and the process is SOOOOOO easy and your instructions so detailed you kept me from making lots of dummy mistakes (but you didn't tell me not to gouge the clay with my fingernail, you'd have thought that would go without saying). After only one batch, I am feeling like a pro! Thanks so much for this, now I'm going to check out your other tutorials, because I've never been able to do anything with clay before! ~Zoe-M >> This comment was originally posted here: Photo Transfer Beads
I love these flower beads!! When I saw them for the first time, I had hoped you would do a tutorial on them. Thank you for sharing with us. Thank you, keep those wonderful tutorials coming! ~Theresa-N >> This comment was originally posted here: Make Trumpet Flower Beads
Thanks this was very helpful. I have heard people say tiny important pieces to the Pasta Machine going everywhere when they have tried to open up their PM's so I was reluctant to even think about opening mine up. Your video really put those fears at ease. I not only opened and cleaned my current Pasta Machine, but opened my first PM that had stopped working smoothly and thought it was a lost… was able to fix the first PM just find that inside some of the nuts had become loose and just needed to be re tightened so the gears would line up correctly. Big help thanks. ~Patricia >> This comment was originally posted here: Cleaning Your Pasta Machine
I am waiting for the Bak-o-matic papers to come in the mail.. I just remember reading how the inkjet transfers were not as vivid :(  we'll see.. thank you so much for this information you have given us all.. I feel like a mad scientist over here!!!  I'll keep you posted with my results! Thanks. ~Candy >> This comment was originally posted here: Image Transfer Technique for Polymer Clay
This is great! I just bought some stencils to use with fabric paint sticks and now I can trace them on parchment and use them on my clay too.  Thanks Cindy :) ~JoAnne >> This comment was originally posted here: How To Stencil On Polymer Clay
Dear Cindy, I am very grateful to have had the opportunity to do your online bead course. My problem was that I was overwhelmed by all the reading material available and unable to translate the information into action. I was in a frustrated state of inaction. In Australia there are very few good polymer clay courses and they are expensive. Books do not show you exactly how to do things, just because the amount of pictures available are limited and the subtleties of technique are omitted. Your course however is invaluable. Your manner of tuition is the best that I have encountered. You are clear and concise and not a bit patronizing. You are very generous because you give a clear message that these techniques are achievable and you encourage experimentation. I have you there 24 hours a day on video, so that I can recheck my methodology. I am not anxious about experimenting and now I can't stop. I just finished a beautiful set of beads using translucent clay stained by dehydrating and grinding up the stamens of tiger lilies. To change the look again I added a drop of red food colouring. I couldn't believe that they worked out so well. My next experiment is with waxed crayon as per your weekly online course. Mosaics are my ultimate goal. There isn't enough hours in the day!! I look forward to your weekly lessons and will gladly subscribe to any course that you offer. Thank you again. ~Cara-L >> This comment was received via email.
Looooooove the faux raku beads. Can't hardly wait to see your technique. ~Lynne-W >> This comment was originally posted here: Deep Crackle Bead Techniques
I really enjoyed the info about making these kinds of beads. It really clarified the technique for me. Thanx again Cindy! ~Adrienne-L >> This comment was originally posted here: Make Flower Beads
Cindy, thanks for the tip….bought some of the cheaper craft felt last night (.25/sheet) and will try building this today or tomorrow. I am glad I joined your pay site for the tutorials, cannot beat the price for the amount of info you offer. Regards. ~Rob-K >> This comment was originally posted here: Polymer Clay Dremel Tool Tutorial
I agree 100% about how easy you make the mod canes! They are by far my favorite to make now. I had been following the directions in a book;  rolling logs, slicing, etc. It was so much quicker using the extruder to cut the circles. My favorite way to use them is to reduce them to between 1/4″ and 1/2″ square slice them into thick beads and make bracelets! These canes are sooo cute when reduced that small and people are astounded at the detail, they'd never believe that it takes 10 minutes to make! Keep up the good work!! ~Carrie-W >> This comment was originally posted here: Make a Mod Cane Using a Clay Extruder Tool
Hey! You are brilliant!!I Will try in this way. ~Jenny-W >> This comment was originally posted here: Quickest Skinner Blend You'll Ever Make
I agree with a poster on another thread, it should be called the Lietz blend or Lietz Skinner variant, or something like that, inspiration should be rewarded. It's insights like this that move the world forward in all aspects, not just the creative. ~Ken-H >> This comment was originally posted here: Modified Skinner Blend – Teardrop Method
Hi Cindy, Have really been impressed with many of your new techniques but just have not had too much time to comment. THE LIETZ TEARDROP BLEND IS AWESOME. Believe you should refer to the method as such and not as a Skinner Blend. When you use the Skinner method then call it a Skinner Blend. Your method is different with somewhat different results. YOU HAVE EARNED THE RECOGNITION!!! ~MJ >> This comment was received via email.
---