---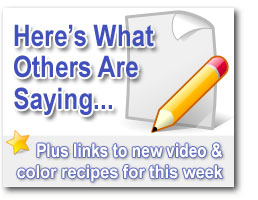 REUNION ISLAND: Dear Cindy, I live in Reunion Island in the Indian Ocean. Nobody probably knows where to find it on a map but it is a very nice little place to live in. I am a french speaking admiror of yours and I learn so much with your course. Do not change anything it is all perfect. Hope to learn more and more from you. You sure are the friend we all want to have to learn polymer clay tips. Go on, tutor, you're the best  (a boy's name, but not in french!!!). ~Laurence >> This comment was originally posted here: International Polymer Clay Artists
AUSTRALIA: I love your online videos and look forward to them every week. There is no way that I wouldn't renew my membership. Look forward to future postings and new ideas. Apart from more caning advice which will be covered in upcoming courses, (that I would definitely buy) I would love to learn how to make more flowers in the future. I love the flower jewellery of the 40's and 50's, especially the vintage Japan and West Germany beads and necklaces. I think if you know basic technique then you can experiment and perfect a certain style. I am definitely learning techniques from you and am successful at the new things that I am learning. That is a testament to a very good teacher. So thanks again- all the best. ~Cara >> This comment was received via email.
BULGARIA: Dear Cindy, I would like to thank you for the 4 free videos. I am a beginner in this beautiful art and i find them very useful. You made them simple, clear, easy to understand- in one word -just wonderful! When searching the net i came across your page and i fell in love with the trumpet bead and the roses. Your creations are lovely! I am from Bulgaria.The art of polymer clay is not popular here. That is why it was a bit difficult to find and get materials and some tools, not speaking of books or guides-practically there are none :) I have in mind your wonderful offers. Thank you once again. Wish you love. ~Nevena >> This comment was originally posted here: Trumpet Flower Bead Polymer Clay Tutorial
GREECE: Dear Cindy, I have to thank you for being so generous to young clayers, I am not considered neither young nor new clayer since I know polymer clay since 1976, But I have to say how much I appreciate you people that share your experience with clay with all the world. I honour all the excellent women-teachers-clayers that during all these years exchange their knowledge with us in the foreign countries. I am the only teacher in my region, Rhodes Greece, that after a long personal journey claying I have the satisfaction to enter into one of the best private schools in Greece in a regular basis weekly the lesson-activity of polymer clay. Because the manager  is a fanatic admirer of the work we do with the kids, 4rth grade up, unfortunately I can't find here all the special tools as tissue blades and brayers and I have to order them through the net. Anyway I am so glad we had this small talk I'll visit your site the sooner possible to see your work if you want to see mine and my daughter's wait a little bit , it's under construction, I'll let you know, Thanks again. ~Helen >> This comment was received via email.
GERMANY: Dear Cindy, I was toooo late I know. Is there any chance to get the bonus recipes? I started with PC beginning of September and at the beginning I was not so vermiliar what I really need and what not. And now I know…. I need colors and of course a lot of colors, much more then Premo, Cernit and Fimo offers right from the pack. I will order the back issues within the next week, but how could I get the bonus colors. I love your side and your tipps. Greetings from Germany (and sorry for my horrible English). ~Janine >> This comment was originally posted here: Color Recipes For Polymer Clay
CARIBBEAN ISLANDS: I watched all the tutorial videos that I purchased and wanted to say that you motivated me so much that I am very anxious to get back to the United States to get my supplies to start… thanks so much for all your hard work putting the videos together. They were great! ~Charlene >> This comment was received via email.
SPANISH: Hi Cindy, I have a big problem with my pieces I used the pledge shiny for finishing my pieces, but now they are peeling I have many pieces with this problem. I look for people in Memphis Tennessee working with polymer clay but I don't find them. If you now help me please. Know I try to do my web site with my husband is waalay.com I want to know what do you think? Thank you so much!! My first language is Spanish but I try with my English. Thank you so much for your help. ~Marita >> This comment was originally posted here: Finishing Polymer Clay Beads
BRAZIL: Dear Cindy, It was really nice running into your page on the net. I'd like to know about the classes. When I pay for them, will I have access to them as many time as possible or will I be able to view them only once? Best Regards, A Fan From Brazil. ~Monica >> This comment was originally posted here: How to Make Polymer Clay Beads
WALES: I am fairly new to this chat thing but I love your site. It has given me so much help. Like all of you I am polyclay mad. Made tons of beads and sold some in the local craft shop, but I live in the UK or at least Wales. My children say out in the middle of nowhere.  My question is I have just ordered a beach tumbler as the postage for the Lortone was too expensive. It has a plastic barrel. Is that OK? And what would be river rock in the UK. Is it the same as in the US? I have never seen any to know what it looks like. I am trying to help my pore arthritic fingers with the small beads. ~Ritzs >> This comment was originally posted here: Rock Tumblers for Polishing Polymer Clay
UK: Dear Cindy, I'm Darren Carrington an Artist in Brighton. … I've found your site really interesting, and people like me really appreciate your time and efforts. I'm a Puppeteer my puppets heads, arms and legs are made of the old 'Sculpey' but you see I created my main characters of my Comedy TV series 'Thatch Close' way back in 2005, it wasn't until last year that I noticed a few puppets had got slightly worn and so I began to re-create the main cast of my series, it was then that I was horrified to find none of the clay was working for me and I was nearly convinced I'd lost my marbles and couldn't continue my aim. … However Cindy you've been a great help and I'm sure I'm not the only one who thinks so, so I thought I'd throw some light from my point of view. ~Darren >> This comment was originally posted here: Best Polymer Clay
FRANCE: Thanks Cindy for your nice comment. It's always good to have encouragement. I'm crazy about beads but I admire your work with polymer and I find your blog wonderful. As soon as I shall begin the polymer work ( we can make such nice things with this) I'm sure that I'll find a great help with your advise. ~Fabienne >> This comment was originally posted here: Polymer Clay Pendant
HOLLAND: Thank you for your site. I stumbled upon a blog the other day and was inspired to start making some fimo accessories. But thanks to your site I can learn step by step on how to start. Thank you for sharing! I am a homemaker and in a foreign land and it was devastating in getting a job. Anyway, I am looking for some craft which I can do from home so I have more time with my son and perhaps sell them. Hopefully this works for me. Thanks again. ~Meilin >> This comment was originally posted here: How to Make Polymer Clay Beads
SPAIN: Dear Cindy, This video for buffing it's fantastic, very useful. But I have a question for sanding. I have seen your video for sanding the beads. For sanding a bead, how long should use every number of wet sand paper? It takes quite a long time. Minimum how many different numbers? Have I the possibility to use quicker method? Thank you for a fan in Spain! ~Amada >> This comment was originally posted here: Polymer Clay Tutorial – Dremel Tool
NETHERLANDS: Hi Cindy, Thank you for letting me watch this tutorial. I have learned a lot and will certainly use this technique! Greetings. ~Sandra >> This comment was originally posted here: Tear Drop Method
RUSSIA: Thank you, Cindy! I like all new things and try many new materials and technics. So your studies are very interesting for me. I try to shortly translate your articles, for those readers, who don't know English. I see that some ideas are common and people from different places tell about one thing simultaneously. For example, we begin to use something like your skinner blend version in automn classes. It was very exiting to see your post about it! Hope we could help you too in your work. ~Emicraft >> This comment was originally posted here: Skinner Blends
NORWAY: Such a good idea, a perfect way to get inspiration for polymer clay! I'm gonna remember that for my next polymer project. :) Thanks! ~Zarah >> This comment was originally posted here: Polymer Clay Cane
ROMANIA: Hello Cindy! I just wanted to thank you for your good advices. I'm a new member in "fimo land" and I find your blog posts amazingly useful. I don't have the money to become a payd member to your site, but I learned a lot from the videos I had seen, so from now on I hope I can understand something from your blog posts and become a fimo specialist :) With love from Romania. ~Liora >> This comment was received via email.
ITALY: Gentile signora Cindy Lietz sono italiana em piacciono molto i suoi lavori potrebbe fare un tutorial in italiano. Grazie. ~Antonietta >> This comment was originally posted here: Polymer Clay Techniques
SERBIA: Hi Cindy, your work is amazing. i'm beginer in work with polymer clay and i don't have experience. i'm interested very much. But, unfortunately, i am from Serbia and i don't have a chanse to order something from you. And i just want to thank you for your free tutorials. best wishis. ~Marja >> This comment was originally posted here: Polymer Clay Bead Making
PORTUGAL: Thank you, thank you, for your nice commentary in my blog. Words like yours make me work even hard and learn all about this absoluttely magnific art. Thank you so much. Big hug. ~Anamir >> This comment was originally posted here: Faux Stone Beads and Copper
BELGIUM: Thank you very much for your help and congratulations for your work. A big hello from Brussels. Love polymer clay. ~Marianne >> This comment was originally posted here: Polymer Clay Color Recipes
DENMARK: Hi Cindy. First of all I would like too thank you for your great homepage. I am an absolut amateur with polymerclay, but with your help I'm getting better and better. ~Helle >> This comment was originally posted here: Rose Bead Polymer Clay Tutorial
IRAN: I'm in Iran (unfortunately), and I love this job… but here we just have Eberhard Faber without help catalog and etc. I don't know what to do. Please please please help me. ~Nazanin [See My Response at this link: ]. ~Nazanin >> This comment was originally posted here: Liquid Sculpey
MALTA: Hi Tania, first of all I have to tell you that your work are fantastic very nice keep up your great work. I wish I learn how to do that set of roses and others do you have videos or dvd's? How can I do from the internet I am from Malta and I don't find these things. Thanks for your reply your friend. ~Tania >> This comment was originally posted here: Polymer Clay Rose Bead Jewelry
SCOTLAND: Hi there, I'm a UK clayer in Glasgow, Scotland. It's great to see that people are trying to raise the profile of this wonderful medium in this country. ~Sarah >> This comment was originally posted here: Polymer Clay in the UK
---