---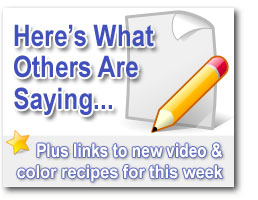 Hi Cindy, Your videos are always so inspiring! I get up especially early on Fridays just to see what video you have sent and I sit down with my coffee and watch. As you know, I am new to polymer clay, but I have watched your videos as much as I can and I am a fast learner, but I was wondering where I can find the patten for making flower canes such as the one you used in the video today. I have already tried a mod cane and a checkered cane, but the flower cane looks so daunting to me. Thanks so much. ~Charlene >> This comment was originally posted here: Making Polymer Clay Flower Beads
Cindy, Thank you for this post. I consider myself a Newbie, because I have only worked in polymer clay for a month or so. But I have been crafting, drawing, painting for all of my adult life… (30 yrs or so, you do the math ;-) I find that I am bringing all sorts of skills to my new found interest, a knowledge of color, design, other techniques that have worked in other media. But I don't know the ins and outs of working with polymer clay. This is why I find your site so helpful. I don't have a lot of patience learning through mistakes and it really helps to "see" through videos how to do something. And, although I feel I have a lot of knowledge in other areas, I feel intimidated by asking simple questions of experts. So I guess this is a long way of saying how I feel you hit the nail on the head! ~Sue >> This comment was originally posted here: Polymer Clay Jewelry Heart
Oh, I'm so glad that I found you! Your work is so beautiful and the video's are so well done even a beginner like me can follow. I can't wait to see what you will have coming next. You don't have to reply I know you must be very busy. I hope I'm not bothering you with this reply but I couldn't resist telling you. Thanks Again. ~Mary >> This comment was originally posted here: Polymer Clay Teardrop Blend
I cannot say enough about Cindy and her site! As for the cost, I have saved the cost many times over just by saving on time and materials using her steps and tips and suggestions. The site is a huge treasury of information both for the beginner and the experienced polyclay artist. In addition, Cindy is the most wonderful person when it comes to customer service and answering questions. I am a beginner and I have had some pretty simple questions but she always takes the time to answer and usually she has been right on. ~Suanough >> This comment was received via email.
OK, in addition to being a guru, color genius, you must also be a mind-reader. I have just made my first beads with polymer clay and have already wondered, a couple of times, if I really needed to sand them.  Since I am lying in bed, right now, doing the treasure hunt and my wonderful, yet exhausted husband is asleep and has to get up and work tomorrow, I am going to have to wait until the a.m. to sand, but trust me, it will be number one on my to do list, right after my coffee! Thanks. ~Karen >> This comment was originally posted here: Sanding Polymer Clay Beads
Beautiful colors! I'm glad you can envision colors. Nature is a great source for inspiration and living in Arizona I enjoy the earth tones of the desert, the wonderful colors from our cactus and wildflowers, the color influence from Mexico and of course the sunsets. Trying to duplicate them is a tough one for me. Have you ever considered doing a southwest color palette? Wouldn't it be fun to do a series on colors from around the world, tulips from Holland, the waters of Aruba, colors from the rain forest! Wow one could stay a wake all night just dreaming up colors. As a very new clayer I find your website very informative, you're a very gifted person. ~Jeanne >> This comment was originally posted here: Polymer Clay Color Recipes
I love Cindy Leitz's web site www.beadsandbeading.com – I signed up and all the videos are very helpful.  I hadn't made polymer clay beads before and it helped a lot with that.  I like her color recipes too. ~Betsy >> This comment was received via email.
Hi Cindy, I'm fairly new to your newsletter and tutorials, but I have to say I love the new look.  It is so much cleaner and easy to focus on the main thing.  Great job.  I've enjoyed all the tutorials so far and I am very new to the polymer clay crowd so all your tips have been very helpful.  Thanks for taking the time and energy to put this together for us novices. Have a sparkling weekend. ~Shana >> This comment was originally posted here: Image Transfer To Polymer Clay
So glad to have found you all. Claying isn't as big in Britain as it is in the States, don't quite understand why but then neither is patchwork and quilting (another of my passions). I've spent months researching polymer since I stumbled upon it and I visited your site loads of times before I took the plunge and subscribed. I'm really glad I did you're the best! ~Polyanya >> This comment was originally posted here: International Polymer Clay Artists
I WISH I had read all your blog articles AND bought the course (which I did a few days ago with birthday money) before I bought a bunch of Sculpey III a couple of weeks ago while it was on sale.  Oh well, at least I have some clay to play with while I'm learning.  I now know first hand that it's too soft to use for canes.  Never having played with polymer clay, I would have thought I was doing something wrong because it was way too soft and I couldn't cut the log without squishing the whole thing flat. On to play some more! ~Joyce >> This comment was originally posted here: Polymer Clay Brands
Hi! I'm a member of Cindy's Site, and love it.  I'm fairly new to polymer clay and she has been so helpful and always there to answer any questions. I love her clay recipes. She's a doll!  ~Peg >> This comment was received via email.
Hi Cindy. Thanks again for taking care of us. I guess that you have a lot of people in your Guest List so if each of us answers to each of your mails you'd end up crazy. I like to be grateful but after thinking about it I realized it would be worse for you if I reply to each message. I just wanted to let you know that I don't mean to be ungrateful if I do not answer to your mails; be sure I'll be waiting for them anxiously. I've never done anything with polymer clay, so I'm an absolutely newbie in this technique. In fact my favorite handcraft is cross stitch and the only one I've practiced up to now. I've created a blog to show my stuff (from 2008 on, not previous things). I haven't done much this year but I still wanted to show it. You can have a look if you're interested and you have time. It is and will be mainly cross stitch but I plan to post all my handcrafts there. Hugs from Spain. ~Mis Labores >> This comment was originally posted here: Polymer Clay Tutorials
This was a wonderful video. You really make it easy for a new clay artist like myself. Thank you so much and keep up the good work. ~Robert >> This comment was originally posted here: Tear Drop Method
Wow you are wonderful, I am new to clay and can not get that skinner blend to work for me. Have ended up with more mud than blend! Now that I have seen your great tuts, I am joining so I get even more! Thanks again. ~Tina >> This comment was originally posted here: Lietz Teardrop Method
To All My Fellow Newbie Poly-Clayers: Being the winner of Cindy Lietz' 2008 Treasure Hunt, and having access to Cindy's first set of videos in what I hope will be many sets, I just want to agree with those who have now purchased the videos, and to testify to those who have not yet received Cindy's videos: Cindy is the best teacher, and her videos are the best videos!!! :) :) :) I have already learned so much from these videos that I so fortunately won this past week.  Cindy teaches the "between-the-lines" information that you don't get when reading an instruction book.  Cindy makes sure that every detail of the subject matter she is focusing is addressed, and made to understand.  Not only that, but her videos are a really good quality, which makes watching them an effortless and  seamless experience.  The lighting in her videos is always right-on, and the angles at which she tapes what she is so eloquently teaching is very thoughtful and conducive to the viewer's learning experience. I can not say enough for Cindy's videos, and I know that I will continue to learn from Cindy as she puts out more video sets.  See for yourselves!!!  You can't go wrong if you purchase these videos!!!  Give yourself a great gift, and get them :) Sincerely, a very happy Cindy Lietz fan and follower. PS…NO…Cindy Lietz did not know I was going to write any of this :) ~Cindy >> This comment was originally posted here: Beaded Polymer Clay Jewelry
I am a paying member of Polymer Clay Tutor and it is great! I am a newbie on polymer clay and have learned so much from Cindy. Anything you need to know she knows and I am constantly learning new things every time I go to her site.  Give it a try and you will not be disappointed. ~Lori >> This comment was received via email.
I am new at polymer clay bead making. The other day I sat and looked at all the different color of clays I have (which is the primary colors) and thought now what! So I took the yellow clay and kneaded it in my hand as I listened to a video on making marbled beads. It sounded easy so I tried it. The first ones I burnt in the toaster oven! Thank heaven I did it outside on the patio! I didn't give up I started again. Made the same marbled beads again and some solid color yellow ones. The only thing I have made so far is some funny shaped beads. Hey, but they were MARBLED! But the other day I picked those beads to make a little bracelet and low and behold I sold the bracelet. So even my little lumpy first time beads were a hit! ~Brenda >> This comment was originally posted here: Mixing Polymer Clay Colors
I have tried several canes and they have not worked well, but what the heck. Adventure is the name of the game, and try, try again is what we as clay artist should do. It's like a runner going for 26 miles and hitting a brick wall at 24 miles. We need to push through it and when we do the feeling can be so high. So I say to all of you who want to quit. Reach for the the Moon and if you fall short, you are still among the stars. Cindy I so want to meet you, and thank you for helping all of us start our journey. ~Sandra >> This comment was originally posted here: Making Polymer Clay Canes
You're quite welcome for the comment. Too many times people find great resources like your site on the web, and take it for granted that it will always be there. Or assume its easy because there are so many. But they don't bother to say thank you to the person who spends their time to make it possible. And I know that a site like yours takes quite a bit of your time, especially answering all the comments you receive. Not even mentioning all the videos and tutorials you offer. (Do you ever get to just play with your clay?) So let me say Thank you, and ask, where were you when I started playing with clay? LOL. I sure could have used all this info then. ~Jaime >> This comment was originally posted here: Polyclay Bead Beginners
The bead is very pretty.  I am just getting into PC and I am finding this site a great help. ~Marianne >> This comment was originally posted here: Polymer Jewelry to Make
I highly recommend The Polymer Clay Tutor. Watching Cindy's videos are like having her right in your studio. She makes me fill not so "alone" in a big polymer clay world. I especially appreciate the fact that, as an expert, Cindy does not make me feel like a silly newbie as some experts can. She understands the trials and tribulations that occur with a learning curve and it is her focus to help us learn from her mistakes. It's because of Cindy's videos that I had the courage to actually take the next step, rather than just reading books over and over. In addition to the great videos, Cindy provides other invaluable resources in her daily blogs and color recipes. And if you have questions, comments, or feedback, she is prompt in her responses. This gal works very hard and is dedicated. You can't go wrong with The Polymer Clay tutor. Oh…and she has a really cute accent! ~Stacey >> This comment was received via email.
Using ceramic tiles to help avoid problems with baking flat pieces of polymer clay is something I have not yet encountered (told you I was new to this!!). And know I can fix it before it happens!! YAY!!! ~Kam >> This comment was originally posted here: Baking Polymer Clay
A few months ago I took a beginner polymer clay bead making class with a local artist and we quickly made a leaf cane similar to this one.  It was just an overview and my cane was terrible.  I'm looking forward to learning more about it and actually learning how to do it! ~Marsha >> This comment was originally posted here: Clay Cane Leaf Beads
I love your description of the sunflower against the blue sky.  As a Kansas born girl, well, old lady now!, I know that sunflowers are the lifeblood for people – especially women.  Where ever I have gone, moving across the Good ol' United States, I have planted sunflowers and provided black oil sunflowers for the birds.  The color palette for the petals is brilliant and so creative.  Your experience in mixing the clay colors is desperately needed by me – an old lady beginner!   Now i want to figure out a design incorporating the black oil sunflowers . . . so the birds have something to eat as well.  Thanks for the best website on polymer clay i have ever found.  At last – I am learning something.  And the treasure hunt is just plain fun, although winning would be even better! ~Pamela >> This comment was originally posted here: Polymer Clay Color Mixing Recipes
---