---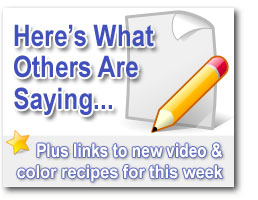 I am an "intermediate" clayer but still have a lot to learn. I will soon be advanced once I keep watching your videos and tutes! I learn something new all the time. Very interesting facts about the poll Cindy. ~KlayKisses >> This comment was originally posted here: Polymer Clay Tools

Hi, Cindy!  I'm really enjoying the benefits of a paid member!  Even though I've worked with polymer clay for over 8 years, there is always something new to learn. ~Gayle >> This comment was received via email.

Hi Cindy. Geesh Im all blushing and stuff that you used my comments in this article. Thank you. But every word I wrote is the truth. If I was asked right now what tools you would need to get started in polymer clay? I would have to say that besides the pasta machine and some clay. The best tool you could have, and the best value for your money, would be a membership to the Polymer Clay Tutor and your wonderful tutorial library. I cant say it enough. Where were you 20 years ago when I started with this stuff? LOL. You've even taught this "old dog" a few tricks. Gotta love that! XOXO ~Jaime >> This comment was originally posted here: How To Videos on Bead Making

I've been doing clay for a lot of years and I still learned something from your website so be proud girl. ~Bonnie >> This comment was received via email.
Cindy, I am so honored to have a talented artist such as yourself take the time to write about my art dolls. Making the bases for my dolls is as much fun as sculpting the dolls and I am glad I could offer some tips to other artists.  There are so many wonderful mediums out there for us all to experiment with; it definitely keeps our art exciting and certainly not boring. Thanks again and so glad we met. ~Bonnie Jones [Talented Doll Artist] >> This comment was originally posted here: Polymer Clay Dolls

I've been working with polymer clays for about 15 years, I made little frog pot sitters about 9 years ago, and used Future Floor Wax, and they still look as good now as when I first made them. ~Betty >> >> This comment was originally posted here: Polymer Clay Finishes
I find the new premo to be vastly inferior to the old phthalate-based stuff. Its less dense and has this elasticity to it thats just awful.. and its softer, which is a problem.. and for people who's canes get all smushed when they try to cut them, I have a solution that works very well. Stick them in the freezer first for about 20 minutes. Using a kato nu blade the canes should come out very nice indeed. And for shaping using a very firm smooth surface is best.. I use a pane of glass myself. Hope that helped a little. I may not make canes regularly but I'm as familiar with premo as anyone can be.. I know this stuff inside and out as ive been working with it for about 15 years. ~Dan >> This comment was originally posted here: New Premo Sculpey Formula
Wow! Thanks for the shout out Cindy :) ~Elaine Robitaille [Too Aquarius] >> This comment was originally posted here: Polymer Clay Pendant
Hello Cindy. I have to say, you've done it again! Taken something, that to new clayers (and some old ones, LOL) might be at best a tedious job, and at worst a frustrating one, and made it simple and quick. I know when I first started making beads, these especially were a bit of a pain to get the same size. But with your log roll technique it would be a simple matter to make dozens in very short order. And I like that the design is on the outside for use as spacers. Very cool. My solution to making same size disc beads was to make all my beads using a shape cutter to start with the same amount of clay for each bead. Then roll into balls and apply my slices or embellishments. When ready I would line them up in a square pattern like a tic tac toe board, making sure to leave room to allow for squishing, lol. Then I would use playing cards at the four corners to determine my thickness and press the whole bunch at once with a sheet of glass or a tile. After that, all I had to do was make holes and bake. But putting on the cane slices and rolling them took quite a while. Now with your log roll trick I can easily cut that time in half. Thank you once again for saving us all a bunch of time, by spending yours to make these great videos (Thanks to Doug too!). Is the Vatican accepting applications for internet saints yet? I'd vote for you in a nano-second. Happy Easter everyone! XOXO ~Jaime >> This comment was originally posted here: Polymer Clay Disc Beads
Cindy, I just got around to watching the Dremel demo and I can't wait to try holding the tool in my left hand. I have been working with Sculpey III for years and am just finding out, that it's not me causing the problems. I am switching to Premo and looking forward to buffing some new beads.  Thanks for this video. ~Susan >> This comment was originally posted here: Making Polymer Clay Jewelry

Oh Cindy, These faux raku beads are exquisite!!! I can't wait to learn this technique!! In response to your request for feedback from existing members, I'll repeat once again that I feel as if I have been given a gift in discovering this site.  I have been working with polymer clay for some time and was constantly trolling the web for information that would enhance my learning.  Granted, there are some I found useful but finding yours resulted in a shift in how I do so many things. For me, though, in addition to the amazing techinques you teach us, it's how you teach that has made the difference. I love that I can actually sit in front of the computer and rewind the video as many times as I need to until I learn a particular step.  I love that I can watch how you hold your hands to form a particular shape or about how much embossing powder to dump on translucent clay to create a d'anjou pear (thanks to you, mine turned out so cute I can't stand it). Bottom line—I have never found a resource like this. (I just reread this and fear it might be a bit sappy but I am submitting it anyway with the hope that you will be able to glean from it my joy and appreciation.) Gotta go now – I'm sitting here with a blend of Studio Sculpy and need to rerun the rose cane video, part 2. ~Elizabeth [I don't think it is sappy. I feel the same way and it is hard to express deep appreciation. I agree with you 200%. ~Anna >> These two comments were originally posted here: Faux Raku Polymer Clay Techniques
Oh my God, they are coming for real? The faux raku videos I mean. In fact I mean: Hi, Cindy! I'm so excited about these new lessons. As I see above, I'm not the only one jumping for joy and waiting for time to pass faster. The smooth raku technique seems wonderful, but the deep crackle raku technique must be heaven!!! Dear Cindy, are you sure you can show everything to us in just one video? I could watch four videos about that without complaining! By the way, I'm the brand new member Cindy had the kindness to quote. And I couldn't resist to subscribe starting with the volume 013, because those little Anjou pears from last week looked so perfect that convinced me it was really the time to subscribe. The four videos I've watched until now are simply so good. You are teaching a beginner how to make something new and also teaching an intermediate how to make something right. And you are giving everyone who's watching one of your videos the desire to try that project. I'm a little delirious right now, you'd be too if you were a member at the library knowing the deep crackle faux raku secrets are coming your way in a couple of weeks! Cindy, thank you so much for sharing this innovation with us! ~Squash >> This comment was originally posted here: Faux Raku Polymer Clay Tutorial
Hi Cindy, I very much enjoyed your course for beginners.  I am not a beginner, but have learned what I know mostly by trial and error, reading and a few simple workshops.  Your tutorial was great for me to fill in many empty areas in my knowledge of polymer clay.  Some ideas had occurred to me but I had not let tried them.  You provide knowledge of products, techniques and how to get good results.  I very much enjoy your presentations.  You are creative, sharing, and have a good sense of humor.  I look forward to your videos every week and especially look forward to your millifiore course!!  I can not think of anything to add to your presentations. Thanks so much for your efforts.  I am sure many artists/crafters out here love your info too! Thanks so much. ~Lynda >> This comment was received via email.
---