---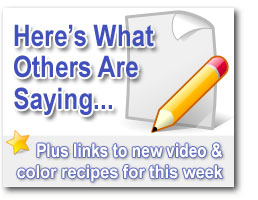 Hi again, I commented earlier when I just joined at how very much I appreciated Cindy and now her husband at all the help she gave me with some problems I was having with pay pal when first becoming a member. This happened approximately 2 wks ago. Since I have ordered several of the back issues, and the beginers many videos. At first I thought the beginers might be just repeat of what I already knew "NOT" Much much more thanks to Cindy's way with both polymer clay and teaching. You are a natural. I have learned so much more and I am constantly going back and re-watching videos picking up more even the 2nd time around. The only complaint I have is against myself for not doing this the moment I first heard about Cindy. I belong to a Polymer Clay guild due to health am unable to attend meetings but enjoy the blog information and chatting back and forth with members. Nobody puts anyone down. I also belong to other Internet sites with polymer clay free and paid for info. I love them all but none have come close to the information and suggestions that Cindy puts out there. I just can not imagine someone thinking she doesn't give this her all. You can tell she loves her work. Ask her and she will answer. Don't ask her and she still answers. Polymer Clay brings out great things in many people. Super things in Cindy. I honestly think she is one of the best teachers I have ever been blessed enough to come across. I would love the chance to spend a few days in the shawdows of Cindy and her clay. If you ever hold Personal classes I want to be one of the first to know. If possible I am already there. THANK YOU CINDY AND YOUR HUBBY TOO!! Eager for more. ~Peggy Barnes >> This comment was originally posted here: Polymer Clay

Cindy, Your course is better than reading a book because it is so much more helpful to actually see someone making and working with clay.  I would highly recommend to anyone wanting to learn about polymer clay to go through your video lessons.  It is also very helpful that each lesson is short and to the point. ~Katherine Barber >> This comment was received via email.

Once again I am just blown away by all that you share here Cindy!!!!! I am learning new things and I am soaking it all in….I am a newbie, I have been playing with clay for a few months now but nothing serious. I already make my own jewelry and thought how fun it would be to design my own items through clay. I am most interested in the canes… and there is so much to learn. If I purchase your video lessons do I just have the 30 days to look at all of them or how does that work? I work and take care of an elderly mother as well as my hubby so I don't have a lot of time on the PC… so I will wait to see what you post back…..:0) Thankx again Cindy….this is GREAT!!!!  ~Pamela [Thankx for answering very quickly… I think I read on another post somewhere that you were 'super woman' or something similar!!! I whole heartedly agree!!! Thankx again, I am off to purchase the video series… :0) YIPPEE….I can't wait to get started. ~Pamela Cameron >> This comment was originally posted here: Polymer Clay Tutorial

Cindy; I am new to Polymer Clay and was looking for a resource for teaching me about bead making. Your course has provided me exactly what I needed, a way to learn bead making at the same time as I am learning polymer clay. I love that I can come back and re-watch the videos. Thanks for all of your work. ~Karen Benson >> This comment was received via email.

Cindy, I have enjoyed and learned a lot from the course. You have definitely taken the fear out of using polymer clay. Keep the videos coming. Thanks. ~Kathy Bloom >> This comment was received via email.
Dear Cindy, I have to say I absolutely enjoy your videos.  I have highly recommended them to others as I truly find them beneficial. In fact I took a class a week prior to purchasing your course and was a little overwhelmed by so much information.  The instructor was wonderful but it is just so much information to take in one day.  After signing up with your online course, it was a pleasant refresher of the class and made even more sense now that I heard it twice – and more if needed!  I like the way you explain things and I always look forward to the next week.  Someday I hope to purchase older ones. I look forward to future tutorials – can't wait to see what is next! Thanks again. ~Lori Newman >> This comment was originally posted here: Craft Classes
Hi Cindy, I thought this course was very valuable and well done. I wish I would have come across your site so much earlier. I have been fumbling around with polymer clay for awhile now, and in many ways, I do mean fumbling. There were many times I found myself thinking "Of course!" or "Aha!" or just "Duh… why didn't I think of that," while watching the videos. This is a fantastic course for someone who wants to save a lot of frustration (and money) while learning to use polymer clay. Your tag-line says it best, "I learned by making mistakes… Now you don't have to." Thank you so much for making this available.  I love all the information and videos I've seen on your site. ~Dawn Boone >> This comment was received via email.
You have no idea how over whelmed I feel about what you said about my beads.  I could never have made them without your video on thread beads.  All your videos and tips are wonderful to newbies like me.  Please keep up the great job.  Thanks for the advice and information.  I purchased your course and every bit of it's helped me out.  I refer back to it nightly and nonstop on the weekends.  Thank you, thank you, thank you YOU ROCK! ~Paul Arthur >> This comment was originally posted here: Jewelry Making Tutorial

Cindy, I would recommend the beginners course, as I've mentioned before, you can learn a certain amount from books but they tend to miss out vital steps, which is where your videos come into their own.Yes there is free info out there if you want to spend hours searching,though the quality of filming is usually a let down. Mistakes happen to us all, weather beginners / advanced, through your own experience, we are able to avoid expensive mistakes when it comes to starting a new hobby, after all, you've been there before. ~Andrea Dimmick >> This comment was received via email.

Dear Cindy, I am so fortunate to have found your blog, and I am very grateful that I have been able to enjoy your "Polymer Clay Bead Making for Beginners Course."  I have learned more from your course, and your bonus videos, than I could have ever guessed I would learn.  Each of your videos is so jam-packed with information… yet, because you really know how to teach, you make it all seem so simple and doable.  You explain, in detail, how every part of each process works.  You have taught me what tools are the best to use, and how to use them.  You have taught me the differences between each different kind of polymer clay, and the best way to work with each of them.  Each time I finish a video that you have made, I go away knowing, without a doubt, how to do what I have just been taught.  I now have great confidence in my abilities when I work with my clay, thanks to all that I have learned from watching your videos.  Through your videos, I have learned how to avoid many mistakes (after all, you have already made them for me!), and how to make beautiful beads, jewelry, and anything I want to make!  Making beads and other projects with polymer clay used to be so mysterious to me, now, thanks to your beginner course, I understand what I am doing, and I just get to have all kinds of fun!!!  I can hardly wait to so what more you have in store for all of us! Sorry… I have no complaints!!!  Sincerely. ~Cindy Erickson >> This comment was originally posted here: Polymer Clay Cane Tutorial

I'm thrilled to have found your course! I had played with polymer clay for a short time a few years ago but set it aside. Your course has helped to ignite a passion, and I'm very grateful for the work you put into it, along with your blog and your library.   You see, I had a stroke in 2001. I'm okay physically, but the depression can really get in the way. One day in February was unusually warm, and I decided to go out and run a few errands (which is sometimes difficult when depression rears its head). I stopped by our local Barnes and Noble to have a cup of coffee at the café, and of course I had to find a magazine to read while enjoying the coffee. PolymerCAFE jumped out at me. Reading it caused me to feel something I hadn't experienced in a long time – enjoyment! When I got home, I Googled polymer clay, and found your course. Cindy, I'm hooked! I'm a rank amateur, but the passion is there.   This feeling – being passionate about something – is one I haven't experienced in many years, and your work has played a big part. I simply cannot thank you enough. Serendipity is always such a wonderful surprise, and that's what happened – the warm weather, the magazine, your course. I never expected any of them, but together they have set me on a course that I'm thoroughly enjoying.  What I love about your course (and your library videos) is your wonderful down-to-earth, chatting-with-a-friend attitude. Your depth of knowledge comes through, but it's in a quiet way that I appreciate. It leaves me feeling encouraged, not intimidated (as many experts often make me feel). Thank you so much for being there! ~Linda Dube >> This comment was received via email.
Hi Cindy, I very much enjoyed your course for beginners.  I am not a beginner, but have learned what I know mostly by trial and error, reading and a few simple workshops.  Your tutorial was great for me to fill in many empty areas in my knowledge of polymer clay.  Some ideas had occurred to me but I had not let tried them.  You provide knowledge of products, techniques and how to get good results.  I very much enjoy your presentations.  You are creative, sharing, and have a good sense of humor.  I look forward to your videos every week and especially look forward to your millifiore course!!  I can not think of anything to add to your presentations. Thanks so much for your efforts.  I am sure many artists/crafters out here love your info too! Thanks so much. ~Lynda Lahr >> This comment was received via email.

Dear Cindy, I am very grateful to have had the opportunity to do your online bead course. My problem was that I was overwhelmed by all the reading material available and unable to translate the information into action. I was in a frustrated state of inaction. In Australia there are very few good polymer clay courses and they are expensive. Books do not show you exactly how to do things, just because the amount of pictures available are limited and the subtleties of technique are omitted. Your course however is invaluable. Your manner of tuition is the best that I have encountered. You are clear and concise and not a bit patronizing. You are very generous because you give a clear message that these techniques are achievable and you encourage experimentation. I have you there 24 hours a day on video, so that I can recheck my methodology. I am not anxious about experimenting and now I can't stop. I just finished a beautiful set of beads using translucent clay stained by dehydrating and grinding up the stamens of tiger lilies. To change the look again I added a drop of red food colouring. I couldn't believe that they worked out so well. My next experiment is with waxed crayon as per your weekly online course. Mosaics are my ultimate goal. There isn't enough hours in the day!! I look forward to your weekly lessons and will gladly subscribe to any course that you offer. Thank you again. ~Cara Letho >> This comment was received via email.

I love your website and want you to know how much you have helped me.  I am a newbie and would still be lost without your lessons.  I think that charging for the website is only fair and you are doing all the work and I am benefiting from it.  I am always willing to pay a fair price for lessons that help me become smarter or more efficient.  Thank you for hosting your site. ~Elle Rice >> This comment was originally posted here: Mixing Polymer Clay
As a fairly new person to polymer clay, I have found the Polymer Clay Tutor to be an invaluable resource.  I do subscribe to the member site and am glad to do so.  Others with more experience may be better able to navigate all the information "out there", but I too found it all to be overwhelming.  Cindy's courses and videos are well done, start with the basics, and then build as your skills increase.  And, as another person said, it's all there in one spot.  If you have specific questions, Cindy is very prompt to answer questions on the blog or in separate emails.  For me, the cost of membership is well worth what I am getting! ~Marsha Nelson >> This comment was received via email.
Hi Cindy, I am fairly new to polymer clay. And I was making mistakes and didn't know it. But when I found your courses , I was delighted to see how much fun it was to work with polymer clay when you handle it properly. And your videos revealed my mistakes and the right way to do things, So I am delighted to be a part of your teaching and I will keep adding more courses as I progress. I am pleased to say I have already sold 2 necklaces I learned how to make on the videos. I have been making jewelry for a little over 2 years , but making your own beads is so cool. So thanks for making mistakes and sharing so I don't have to. Sincerely. ~Marilyn Smith >> This comment was received via email.

Hi Cindy – I have not viewed all the videos yet due to schedule/time constraints. The ones I have viewed are great and helpful even the parts I know something about have made things clearer. Seeing how things are done gives a sense of confidence that I can do it. ~MJ Southern >> This comment was received via email.
Hi Cindy! I will be definitely joining you with this new venture, and am thankful that I tripped across your website. The tutorial I purchased was unbelievable, and very insightful to me. I'll be back to it again on the weekend. It offered so much information, that most people don't share — even when someone pays a fee for it. So, thank you for being so generous with your knowledge. Cindy! I found so much useful information in that purchase, and know that my mind (at this juncture) needs a reminder. In any event, you are a shot of adrenaline, and I'm sure alot of people are learning from it all. Ta! Ta! Cindy, you're top banana! I've dealt with alot of people on the internet, and trust me — you are beyond fair! Sincerely. ~Diana Souza-Castro >> This comment was originally posted here: Polymer Clay Tutorials

Cindy – I purchased and have been watching the course videos and learning a lot. I have ordered a pasta roller and when it arrives will purchase clay, rollers, etc. Do you have a website that you order bead racks, roller racks, etc. from. Your videos are so informative and easy to learn from. I can't wait to get started. ~Susan Sabine >> This comment was originally posted here: How to Make Polymer Clay Beads

Hi Cindy. I have really enjoyed your course and also the extra video's were a lovely surprise. Clear and easy to understand I have learn't so much. Thank you for making the mistakes so I didn't have to. Cheers. ~Jo Southwick >> This comment was received via email.
---