---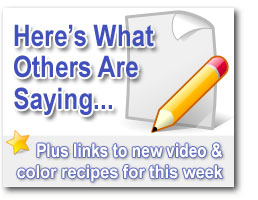 Oh Cindy!!! That was fun and I did, indeed, learn a lot while doing my "Treasure Hunt". I will say that it was work…but so worthwhile!!! Thank you again for your generosity in sharing your knowledge with us. ~Selma >> This comment was originally posted here: Polymer Clay Treasure Hunt

Cindy…you are such a wealth of knowledge! I am following your treasure hunt…but it is taking me hours because I am so enthralled with each and every page that I am finding on your site!!!  I can't bear to go onto the next clue until I have read every word, and every link on each page!  I am so excited about all that I am learning from you.  My creative mind is in a whirlwind thinking of all that I am going to be able to do and make with all that I am learning from you…it is so great!!!  WOW!!! ~Cindy >> This comment was originally posted here: Sanding Polymer Clay Beads

Hello Cindy, Wonderful membership campaign. I have actually been on the fence and was pleased with the complimentary volume. I am thrilled to spend time on the site and learn lots of new techniques and color combinations for the pieces I create. Again thank you for hosting such a great site. I look forward to future conversations. ~Julie >> This comment was originally posted here: Polymer Clay Artist
I just finished the tresher hunt i think soooooo yea i'm 14 and loven it and need all the help i can get!! ~Ali >> This comment was received via email.

I must admit I have not made any canes as of yet. But I do love Pansy's I think they are one of the prettiest flowers in a garden. I would love to see you make a video of this cane. I am still having trouble using the translucent. I either use to much or not enough or something. I know I have said this before but I have really learned a lot by getting into this treasure hunt. Of course I am seeing double by the time I pull myself away from the computer. LOL  And my husband thinks I left him. But it has been worth it all. You do a great job and I realy appreciate it. ~Linda >> This comment was originally posted here: Polymer Clay Cane Designs

Great article Cindy! Personally I love cardstock and tile method to keep things flat and to avoid shiny spots or sometimes I'll use printer paper if weighting it down with another tile. I've had mishaps with Parchment as it tends to wrinkle with heat, at least the stuff I've used. This treasure hunt is fun, but I don't really need to win a treasure, you've got all sorts of treasures on every page! :) ~Tina >> This comment was originally posted here: Baking Flat Polymer Clay Sheets

I love your description of the sunflower against the blue sky.  As a Kansas born girl, well, old lady now!, I know that sunflowers are the lifeblood for people – especially women.  Where ever I have gone, moving across the Good ol' United States, I have planted sunflowers and provided black oil sunflowers for the birds.  The color palette for the petals is brilliant and so creative.  Your experience in mixing the clay colors is desperately needed by me – an old lady beginner!   Now i want to figure out a design incorporating the black oil sunflowers . . . so the birds have something to eat as well.  Thanks for the best website on polymer clay i have ever found.  At last – I am learning something.  And the treasure hunt is just plain fun, although winning would be even better! ~Pamela >> This comment was originally posted here: Polymer Clay Color Mixing Recipes
This treasure hunt has been so informative for this newby in clay. I have all my clay and supplies stored at my moms and on the weekends we get together and have "Clay Dates". 4 generations of clayers. Mom, me, my daughter Jennifer and then my 2 grand daughters from my other daughter that I am raising. The prize would be a wonderful tool to teach the girls, 6 and 4. Thank you again. ~Jeanie >> This comment was received via email.

Cindy, I'll be the first one to tell you that I like tests, etc. like this. I got a score of 8, but now I'm cross-eyed. Guess it's time for bed. THANKX as always for making it fun. ~Darinder >> This comment was originally posted here: Polymer Clay Color Quiz

I got six out of ten right, too! I know I'll be watching the video course again soon! :-) In my defense though, I've been concentrating on my flower petal beads and experimenting with Premo, Fimo and Kato translucent clays. Each one is unique and they each seem to react differently with different flowers. This was a great quiz though, Cindy! Thank you! ~Marsha >> This comment was originally posted here: How To Make Beads
This was a fun exercise and also very thought provoking.  It made me realize how fortunate and lucky I have been in my life.  Thank you for taking me to that moment of realization. Now to continue the hunt for that recipe. ~Illaya >> This comment was originally posted here: Thanksgiving Wishes
The following comments are referring to a recent giveaway contest. all of the original comments are posted here: Polymer Clay color Recipes
What a great way to do a review of ALL the lessons. ~MJ
That was a good contest. I also found posts I don't remember reading/seeing before, but since I subscribe, I KNOW I have to have seen them, LOL. Thanks for your fun. Hugs. ~Sue
Refreshed my mind re-reading posts I had forgotten. Great fun. ~Dawn
It was lots of fun reading through older posts. Thanks! ~Cindy
I learned a few knew things in the process. I never knew about that feature to display all the posts with pictures. Going back reminded me of the many really great projects you have presented. So the pictures will be a great way for me to remember past lessons. ~Anna
It was nice being able to go back to previous post, saw some that I need to work on. Thanks. ~Anna
Found it! And I'm glad I took part in this because, since I am a new subscriber, it gave me a chance to find some really great ideas in past posts! ~Carrie
Finally I found it!! With your help. I did not know about the home page showing 30 days at once and how great is that? I saw so many posts that I never would have seen if I did not go back. Now I have to go back again and read them all!! So much fun! ~Maureen
Found it and it sure has been educational. I cannot count how many back blog's I read and learned quite alot as always :) Thanks Cindy, that was fun! ~Jennifer
Got it!!!! Was away for the weekend and just got home! ~Ken
I found it too! Now I remember. I saw a few that I must have missed too. I gotta go and check them out. C-ya! ~Catalina
saw some tips and lessons I had forgotten all about. Thanks for making us go back and look. ~Laurel
I love this way of looking at the site, and never knew it existed until it was pointed out. Think I am image based. Also reminds me how much I have to learn and catch up on! ~Jocelyn
I also found it and a lot more information to go back to. What a wonderful archive Cindy. This will keep me busy for a long time. Wonder if I'll ever catch up. ~Joyce
Hah hah this was a funny thread – but if I spend any more time on the lap-top I just won't be able to market my goods and earn enough cash to buy all the enticing equipment you so generously show us how to use Cindy – Makins extruder here I come! ~Polyanya
I found it without the hints, thanks a great contest. ~Elly
Eureka!!!! Weeeeeee ! I got it… even if I am just a guest member, I am happy to be a part of this. ~Che
Hahaha! I found it right away! I knew just which pic it was in. I only needed to confirm the date. I recently took a forced hiatus from membership here (Thank you PayPal:( and so I spent the time reading every single post on this site. ALL of them! And loved every minute I might add. I even found a few errant color recipes along the way LOL. So include me in the contest too Cindy, please!! XOXO ~Jamie
HI, I found the post too but I used the hints. I frequently go back and read previous posts and videos. I sometimes do a search on Google for a technique and guess who always pops up. Cindy Lietz! ~Bette
Hi Cindy, I love your site. I found the post. I had to use the hints. Also saw some very interesting posts that will answer some of my questions. ~Ariti
I found it! And I'll be reviewing and reviewing and reviewing tomorrow night at work. ~Edie
Hi Cindy, Yes! I found it, within three clicks, fun contest, just draw my entry, thanks. ~Pat
I found it too. Love the poem, and the hat. ~Lynn
Found it!! Enjoyed going thru the site again to see all the wonderfull past lessons you have provided for us. Hugs. ~Adrienne
Hi Cindy, I found it too without the hints! Found lots of info I might have passed while searching. Count me in the draw. ~Cheryl
---