---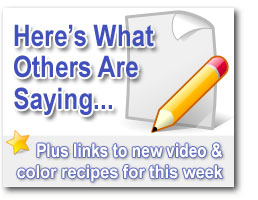 I have been teaching the granddaughters and their friends to make beads since school is out. They have made some really nice necklaces. Great hobby for keeping them entertained. ~Marlowe >> This comment was originally posted here: Polymer Clay Beads

My grandson last night thrilled me by asking if he could make jewelry.  He and his sister are coming today for a play day.  So as usual your timing is perfect with this topic. I am so gifted on this special day to have you for inspiration and guidance. Thank you Cindy. ~Illaya >> This comment was originally posted here: Faux Pebble Beads Polymer Clay Tutorial

Cindy those roll up beads, done with the teardrop blend then antiqued, are gorgeous.  Easy to do for most folks too.  This would make a wonderful activity for a group of folks you'd like to expose to polymer clay for the first time, like a children's art class or elderly center craft day.  Lot's of WOW IMPACT based on simple procedures. ~Jocelyn >> This comment was originally posted here: Textured Beads Polymer Clay Tutorial
I truly enjoy your methods of teaching immensely, and you are so (NOT) intimidating as you bring a person through step by step. This is a Blessing in disguise to a majority of us, especially when you are my age (64).  Thank you for your patience, and also for your Great Work!!!! Your beads are gorgeous, and have to try some marbling too. They make gorgeous round disks!  Will have to do some experimenting with my clay, and check around for some of the goodies you were using.  For myself, being an artist is such a Blessing, and it has encouraged me through some difficult times. It is great therapy!! Thanks again!! ~Diana >> This comment was received via email.

I am a little late in posting…just read this now!!  What a great learning experience for your daughter!!!  That is what I want to do with my daughters when they are a little bigger ( 5 and 6 right now)…but great life lessons for her to get now!!  Imagine what a great business woman she will one day be!!! YAY Willow!! ~Kam >> This comment was originally posted here: Selling Jewelry  at Craft Fairs

Cindy I've been making home made gifts since my son was 9 months old. He is 39 now! I have always been into crafts, I started out sewing then I started painting pictures (oils, then acrylics). Fell in love with crewel work. My grandmother taught me how to knit and crochet. Started a small company when the kids were older making country wooden items in the 70's. Then along came companies that made the same except cheaper and cheaply made. Anyway my family always loved handmade gifts. I hope that the economy will bring back that special meaning of someone giving something that they put their personal touch to. I start making gifts in the summer so there will be time for me to enjoy the holidays with my family and not be so stressed out running around looking for that last minute gift. This year for the first time, everyone finally agreed not to bring gifts to the family party for everyone and to just enjoy being with each other, remembering what the true meaning of Christmas is about and play catch up on what has been going on in everyones lives. There is 32 of us so you can imagine all these years all the stress of having something for everyone! I never had to worry , but everyone else did. I'm so happy they're happy! Well I didn't mean to rattle I just thought I'd share. Happy Holidays to everyone! And thank you again Cindy for sharing what you know. That is a special gift to me. ~MaryEllen >> This comment was originally posted here: Polymer Clay Christmas Gifts

Hi Cindy, Your "Polymer Clay Bead Making for Beginners Course" is exceptional. I can't agree more with all those who have said what a great teacher you are. And the presentation of the material you cover is easy to understand. The lighting in your studio is beyond professional. I have tried to learn another subject through tv video and the quality you have just wasn't there. So I have an experience to compare to and you have it all. I have learned so much and now the fun begins to be able to play with the clay and make things happen. Of course I will need to refer to the tuts and their being available 24/7 is such a plus, no waiting for the class to begin, it is only a click away.  Also, your video library has so much more and I'm excited about trying out the recipe cards.  It is difficult at times to come away from your blog. All these artists who willingly share their talents also are wonderful. Its like an extended family in the clay world. Sometime I hope to be able to contribute an experience but for now I will be there with questions as I share this experience with my twin granddaughters who will spend their summer vacation here in sunny Florida. Thank you, Cindy. ~Joyce >> This comment was received via email.

Thank you Cindy yet again for all you do! I myself got started with polymer clay after getting my daughter one of those children's craft "Klutz" books which features Sculpey clay. As camp nurse/crafts person at our scout camp, I had the kids making stuff with it. Most of it was never properly conditioned (didn't even know you needed to do that) and thus broke after baking. Gradually I got more and more interested in the art and have been making various beads with my clay of choice, Premo. I've even sold a few pieces. Thanks to you and other resources on the web and books, even my husband can see I've come a long way! ~Maria >> This comment was originally posted here: Jewelry Fimo Clay
I only just started making jewelry over the winter because I wanted to try to duplicate those expensive "Troll" and "Pandora" bracelets that are getting so popular now.  I discovered polymer clay when I was having trouble finding "just the right bead" for my projects.   I dove right into the clay and love working with it.  It is a craft that I can also share with my daughter and son.  They enjoy helping make beads and also small decorative objects  (hint— would love to see a bead project geared to the teenage styles).   So far I have made the beads for some family and friends.   Have had friends request me to make things for them to purchase, but I think I still have a way to go before I would be comfortable charging for them.  Maybe one day I can at least pay for my hobby that way. ~Cathy >> This comment was originally posted here: Making Polymer Clay Beads

I think it is an excellent idea. I don't have any sons but was always stumped for a gift when my daughters were invited to a birthday party. As kids get older so do the price of their "toys", especially adult men. As the saying goes, "the only difference between men and boys is the size (and cost) of their toys." Thanks for another great idea. I am going to start one for my nephews. Have a great Mother's Day. ~Anna >> This comment was originally posted here: Faux Stone Dog Tags Jewelry
I really like the gift ideas for the older men (and women). Every year at gift-giving time my sister and I rack our brains for something different for our father and step-mother. I think my dad would actually like something like the "hookmark" in this post. Thanks for sharing! Would love to read more ideas for gift-giving for the older set who have everything. ~Joyce >> This comment was originally posted here: Faux Stone Beads
---