---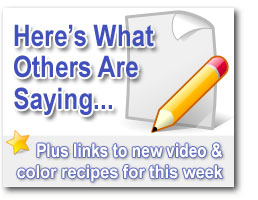 Hi Cindy, just got around to watching your video (am way behind on reading my e-mail) but glad I finally got to yours. I enjoy getting my lessons from you and watching the videos. I have been claying many years now but still learn a trick or 2 by watching them. Also I love the fact that you answer all the questions sent to you about how to work with clay and are always so willing to teach each "little" step so that no steps are missed as each "little" step is also part of a "bigger" step. Thanks again. ~Adrienne >> This comment was originally posted here: Polymer Clay Artists

I also want you to know how much I enjoy your newsletter.  You are very generous to share your knowledge with us!  I have been using polymer clay for 9 years and have taken classes from some of the biggest names in polymer clay but you always seem to have something interesting to add or even a new technique or two. Keep up the good work.  I know having a daily blog is very time consuming and think you are doing a spectacular job. ~Gayle >> This comment was originally posted here: Polymer Clay Color Recipes
Hi I have been doing polymer clay for awhile now and have seen a few color charts but I think yours is the best I have seen. Not only the yellows, greeen and blues of this article but also the purples you had June 14th. I found that really useful as I  was doing violets at the time. I was having a hard time figuring out how to get the purple I wanted and then I seen your blog. A friend of mine had sent me the link to your videos and I have enjoyed every one of them so far. Thanks for being such a great person. ~Linda >> This comment was originally posted here: Polymer Clay Color Mixing Recipes

You perform a great service to newbies and to those of us who are seasoned clayers.  It is surprising how much we sometimes forget about. ~Kriss >> This comment was originally posted here: Polymer Clay Tutorials

Just like Peggy in a previous comment I had been looking around here for quite awhile, not realizing there is so much more for you when you really join. So I joined only a few days ago, and like Peggy I found Cindy to be on top of everything and couldn't do enough for me, and yes I feel I have found a like minded friend in Cindy. As you say Peggy I don't know when she sleeps, because as soon as I had emailed her she has come back with a reply which I needed to know about even tho we are in different time zones. How she does it all I don't know I am so glad I have joined and have already made use of the content I have in my paid for videos. I have a Makins Extruder and am having fun with it as I had only used it warily before now I've got beautiful mod canes I didn't know I could do. I have been Polying for about 4 yrs on and off , but being here has made me want to focus on becoming really good at what I do and with Cindy's on going tutoring I sure will. It is so much better to see the videos and see how someone else does things. Thank you Cindy for being who you are and having such a passion for Poly clay and inspiring so many people. Keep up the good work I cant wait to get to the computer every day now. From another Aussie down under Madly passionate Polymer Clayist. Thank you Cindy. ~Elizabeth >> This comment was originally posted here: Polymer Clay Beads How To Videos
Hi Cindy. Ive been "lurking" your site for some time now, and I get your newsletter now too (thank you) IMHO I think your articles are all good and never too long. You take the time to explain things completely. Which the experienced like me (have been claying for almost 20 yrs) might not need so much, but the beginner will definitely benefit from. And even with my experience, I find your article fun to read. Don't change a thing. As for topics? Are there any "bad" ones? Sometimes when I find myself uninspired, I cruise around a few sites (yours is now one of those on my list) looking for my errant muses. And your articles never fail to spawn a new idea, or add to one already in progress. You are absolutely a benefit to the polymer clay community here on the web. I believe that no matter how much you know, there's always more to learn. So keep up the good work. And write about whatever you think we would enjoy learning. Im sure we will enjoy reading about it. Thank you. ~Jaime >> This comment was originally posted here: Polymer Clay Reader Survey
I am not a member but Cindy is an absolute sweetheart and her help is wonderful! I highly recommend her site. It is mostly for people who haven't worked with clay for years as many of us have, but she has gone WAY beyond what she needed to merely to help others. For that, she gets my Gold Star! ~Moe >> This comment was received via email.

Yes, I've had my frustrations with the new formulas. Some of my softer brands I leach between paper, but find it is quite the waste of perfectly good paper. I now keep all sorts of paper and use the unprinted side for leaching, or will use a little blender to mix all my brittle clay with the too soft. Also mixing translucent clay with the mushy sometimes helps as it tends to be quite firm. Thanks to you, other readers here won't have to feel all hope is lost…there is hope! ~Tina Holden >> This comment was originally posted here: New Premo Polymer Clay Formula
Cindy – I love to use your ideas and transpose them to my work. I just made some clothes for a fairy with fimo coloring with the inks. I ended up putting gold leaf on top of the clay, but it gave a good back ground for the gold. ~Bonnie Jones >> This comment was originally posted here: Translucent Polymer Clay Brands
Cindy, I may not be your average site audience but I'm around the craft community enough to see you've worked butt off getting your name out there, doing research, asking respectful questions and then compiling the results. It's easy to say nice things about that sort of hard work. ~Elaine. ~Elaine Robataille >> This comment was originally posted here: Polymer Clay Rose Canes
I cannot say enough about Cindy and her site! As for the cost, I have saved the cost many times over just by saving on time and materials using her steps and tips and suggestions. The site is a huge treasury of information both for the beginner and the experienced polyclay artist. In addition, Cindy is the most wonderful person when it comes to customer service and answering questions. I am a beginner and I have had some pretty simple questions but she always takes the time to answer and usually she has been right on. ~Suanough >> This comment was received via email.
I've used a motor for about 8 years now…I just recently replaced my first motor, so I got a lot of mileage out of it. I think I paid a bit less for mine ($80), but it's not an Atlas motor, it's a 'Pasta Facile'.  I use my machine almost exclusively at home because I make canes and do a lot of Skinner blends.  I use the motor to take the strain off my arm.  The main thing I don't like about it is the noise, especially since I like to watch/listen to the TV while I work.  When I clay with friends or I'm at a workshop or Guild clayday, I do not use the motor, because the noise interferes with conversation.  A couple of years ago, I went to a retreat where dozens of people were running their pasta motors and the noise drove me nuts, although I did eventually start to get used to it !  I've noticed that when I crank by hand, I actually get sweaty, so I guess that hand cranking does burn some calories! ~Dora >> This comment was originally posted here: Pasta Machine Motors
Thank you for the awesome glitter tips! I am going to try making canes with my clay, now I am all excited!! Thanks to you!! Hugs. ~Kathy [Crafty Chica] >> This comment was originally posted here: Polymer Clay Glitter
Hi Cindy : ) I stole my husband's Dremmel tool years ago and ended up buying one of my own with variable speeds and tons of attachments to go with it! I don't know what I would do without it!! I'm a multimedia artist and find a use for it in just about everything I do! (except in painting of course…lol) Thank you for the videos.
Yes the swirly beads are addictive…lol I was a good girl and voted already. I happen to be an advanced polymer clay artist. Not an expert, but I can hold my own : ) I finally ordered a supply of Studio Sculpey out of curiosity, (I am a Premo user), and found it to have a suede feel to it. Definitely different. I made a few canes and it did well. The only problem I found was when I was slicing the cane that it isn't as stiff after resting. In the future I will try putting it in the freezer for around 20 minutes before slicing so it won't lose it's shape. Although it doesn't shine much after sanding and buffing like Premo does, after applying a gloss glaze it is beautiful!  I've carried on long enough! Hope you are having a great weekend Cindy! ~Mary >> This comment was originally posted here: Buffing Polymer Clay Beads
Thanks for the reminder Cindy.  I knew that but just stopped paying attention to the beauty of it. ~Shelly >> This comment was originally posted here: Becoming a Confident Polymer Clay Artist
Cindy. Wow,so many amazing responses. I have been working with polymer clay for about 15 years now and am still as addicted as I was the first time I laid eyes on it. I have tried so many techniques over the years. Your videos and tips are an inspiration to all.I check your blog daily for the latest tip, pearl of wisdom. I have sold many pieces of work lately to friends and coworkers and seem to have hit on a great design. ~Sam >> This comment was originally posted here: Mixing Polymer Clay Color Recipes
This is such a good idea, makes things real fast! ~Iris Mishly >> This comment was originally posted here: Tear Drop Color Blending Technique
Video was very well done.  I decided to watch it even though a skinner blend is something I think I do fairly well.  The water tip was good, sometimes my work area is warm and the clay is sticky.  Also the butting it against the side of the pasta machine. ~Nora >> This comment was originally posted here: Polymer Clay Skinner Blend

---