---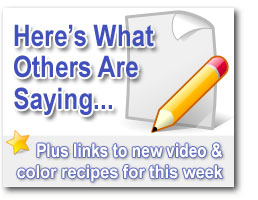 It helped me kick a 13 year smoking habit! ~KB >> This comment was originally posted here: Polymer Clay Art Therapy

Love the site…now a library member, especially now that I am layed off from my job.  Hoping for work soon to support my polymer clay habit… it has been very therapeutic. Or maybe sell a few beads now that I am getting better at the canes. :) ~Jackie >> This comment was originally posted here: Making Polymer Clay Canes

Wow cindy! I went to the clay table and tried it right out. I love the Skinner blend but it always took so long to do it and with my arthritic hands I would end up in pain before I was even finished. This one is so much faster and easier, thank you so much for sharing it with us. I will always think of, and refer this one as the "Leitz blend. Much mahalo from Hawaii. ~Norieta >> This comment was originally posted here: Lietz Teardrop Method for Color Blending Polymer Clay
I have a 14 year old Pomeranian with cushing's disease. It is terminal for her and I'm just trying to keep her as happy as possible until her time. I am planning to cut some of her hair for a pendant inclusion. I had seen this book before and I thought it was a wonderful idea. Thanks for sharing it. ~Kim >> This comment was originally posted here: Polymer Clay Memorial Jewelry
I'm thrilled to have found your course! I had played with polymer clay for a short time a few years ago but set it aside. Your course has helped to ignite a passion, and I'm very grateful for the work you put into it, along with your blog and your library.
You see, I had a stroke in 2001. I'm okay physically, but the depression can really get in the way. One day in February was unusually warm, and I decided to go out and run a few errands (which is sometimes difficult when depression rears its head). I stopped by our local Barnes and Noble to have a cup of coffee at the café, and of course I had to find a magazine to read while enjoying the coffee. PolymerCAFE jumped out at me. Reading it caused me to feel something I hadn't experienced in a long time – enjoyment! When I got home, I googled polymer clay, and found your course.  Cindy, I'm hooked! I'm a rank amateur, but the passion is there.
This feeling – being passionate about something – is one I haven't experienced in many years, and your work has played a big part. I simply cannot thank you enough. Serendipity is always such a wonderful surprise, and that's what happened – the warm weather, the magazine, your course. I never expected any of them, but together they have set me on a course that I'm thoroughly enjoying.
What I love about your course (and your library videos) is your wonderful down-to-earth, chatting-with-a-friend attitude. Your depth of knowledge comes through, but it's in a quiet way that I appreciate. It leaves me feeling encouraged, not intimidated (as many experts often make me feel). Thank you so much for being there! ~Linda >> This comment was received via email.
Hi Cindy, I enjoy making both kinds. But I think my favorite would be "creating for the challenge". I find when depression hits me, just simple beads helps me to focus my energy much more quickly and then I can get more creative and tackle the more challenging types of clay work I enjoy. ~Adrienne >> This comment was originally posted here: Heart Shaped Beads

Hi Cindy, I'm laid up with shoulder surgery and got interested in silverware art etc. You got my attention about polymer clay can you give me some tips on where to buy and how to use this stuff? ~Dave >> This comment was originally posted here: Starter Polymer Clay Colors
On the other side of the argument, I LOVE my motor and in fact, have more than one, LOL.  The noise doesn't bother anybody at my house.  When I first got it, it was because I had had shoulder surgery, so I had an excuse for the first one, LOL.  Now I'm just spoiled. Plus, I am a caner and go through A LOT of clay. Although it still doesn't bother me to use the crank, either, I just prefer the motor.  When we have a class or I have people over for a clay day, I choose not to use the motor, but when it's just me, I use the motor exclusively, I wouldn't want to be without it.  My second one is because I have a "mini studio" in our Fifth Wheel trailer for taking clay on vacation with me and my DH spoils me by not making me lug all the equipment back and forth. Hugs. ~Sue >> This comment was originally posted here: Polymer Clay Pasta Machine Motors
Hi again, I commented earlier when I just joined at how very much I appreciated Cindy and now her husband at all the help she gave me with some problems I was having with pay pal when first becoming a member. This happened approximately 2 wks ago. Since I have ordered several of the back issues, and the begginers many videos. At first I thought the begginers might be just repeat of what I already knew "NOT" Much much more thanks to Cindy's way with both polymer clay and teaching. You are a natural. I have learned so much more and I am constantly going back and re-watching videos picking up more even the 2nd time around. The only complaint I have is against myself for not doing this the moment I first heard about CIndy. I belong to a Polymer Clay guild due to health am unable to attend meetings but enjoy the blog information and chatting back and forth with members. Nobody puts anyone down. I also belong to other Internet sites with polymer clay free and paid for info. I love them all but none have come close to the information and suggestions that Cindy puts out there. I just can not imagine someone thinking she doen't give this her all. You can tell she loves her work. Ask her and she will answer. Don't ask her and she still answers. Polymer Clay brings out great things in many people. Super things in Cindy. I honestly think she is one of the best teachers I have ever been blessed enough to come across. I would love the chance to spend a few days in the shawdows of Cindy and her clay. If you ever hold Personal classes I want to be one of the first to know. If possible I am already there. THANK YOU CINDY AND YOUR HUBBY TOO!! Eager for more. ~Peggy >> This comment was originally posted here: Beads and Beading and Polymer Clay

Do you have an idea for displaying necklaces? This would help me so much–I'm just starting out with jewelry at craft shows & could use all the help I can get. I love the idea of the earring cards. I'm disabled and only do one show a year, but work all year towards it. Thankx. ~DeBraden >> This comment was originally posted here: Selling Handmade Polymer Clay Jewelry
---