---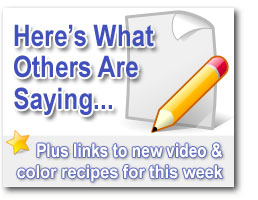 CHINA: My challenge is to find a pasta making machine because I live in China… and they make noodles by hand! lol! Then I have to travel 2 hours to Hong Kong to pay over the odds to get polyclay. Boohoooooo! ~Elsa >> This comment was originally posted here: Polymer Clay Color Recipe Cards

RUSSIA: We have a lot of links to your site from our community at our emicraft.livejournal site. Your articles are very helpful. ~Larrissa >> This comment was originally posted here: Russian Jewelry and Bead Artists

AUSTRALIA: Hi Cindy, I have just watched your video clip, a fabulous result and how easy you make it look. I'm very new to working with Polymer Clay … Thanks so much for passing on your knowledge to this novice, I look forward to receiving your email as I know I will always learn another tip to assist me in my creativity. Toodles From the land down under. ~Maggie >> This comment was originally posted here: Polymer Clay Image Transfers

FRANCE: Excellent tips – I knew about cornstarch but not the baby oil – so will give it a try. ~Lunes >> This comment was originally posted here: Avoiding Fingerprints on Polymer Clay Beads

TURKEY: Hello from Turkey. You wrote a comment on my blog, this is the reason I am contacting you. Because when I checked your blog (I was curious) I found out that you have GREAT IDEAS and TIPS on your blog :) !! Congratulations for your efforts. I added your link on my blog. ~Kumru >> This comment was originally posted here: Polymer Clay Pendant Designs
HOLLAND: I'm from Holland and we don't have very much polymer clay information here, so I like your site very much and I would like to see more of your video's. Yours sincerely. ~Inge >> This comment was originally posted here: Polymer Clay Reader Survey

ITALY: Thanks for the complete rundown on translucents..I found it very helpful and will refer to it in the future. Great Job. ~Mary >> This comment was originally posted here: Translucent Polymer Clay Brand Comparison
ALASKA: Winter is on the way already here in Alaska, and I look forward to spending my winter craft time learning from you! Thanks for all your hard work! ~Susan >> This comment was originally posted here: Polymer Clay Tutorials on Video
CAMBODIA: Hello Cindy, My name is davy from Cambodia country , I am interesting with your skill on make polymer clay project . I want to study and learn from you, could you please send me some of training skill lesson includ video with your advice me how to make it in good quality at international standar? from the basic skill up to high skill, and expecialy I want to learm from you how to paint color on polymer clay product. I will be happy if you can teach me and I will use this skill to help and apply it poor women to help them have job and income for support rice and food to their children. Please let me know How much I have to pay for training? Thank you and looking to get reply from you soon. ~Davy >> This comment was originally posted here: International Polymer Clay Artists

CYPRUS: Cindy you are a fantastic tutor. It could be good to add these to your courses. ~Yanna >> This comment was originally posted here: Polymer Clay Flower Beads
UK: Hi. I have just received your free videos and was extremely impressed. You are an inspiration to a fairly new beady and thanks for your advice. How do I go about purchasing your other videos. Kind regards. ~Eileen >> This comment was received via email.

JORDAN: That's a great post! i was just asked by a clayer from jordan (neighbour ;) ) about "how to start claying" she asked me because she has to order everything online, nothing she can find in her country, so i have her the list, similar to yours, if you ask me, polymer clay is not that expensive hobby (at first anyway), our list is much shorter then other art mediums i know :) ~Iris >> This comment was originally posted here: How To Make Beads
POLAND: Hi Cindy, Thank you.Your tutorials are very helpful for me because I'm beginner. Many regards. ~Peter >> This comment was received via email.
GERMANY: Dear Cindy, I tried this awesome technique,too, and was impressed, how good my (german;-) baking parchment held the colour… The transfer onto the clay went easy and looked very promising, but, unfortunately the inks didn't "heat-set" in the oven… I think there's a difference in the inks, the printer uses. Mine is a CANON Pixma… Many greetings from Germany. ~Susanne >> This comment was originally posted here: Polymer Clay Image Transfer Technique
SERBIA: I like your work, and I want to learn it. I make peactures and other prodacts from pressed flowers and leaves. Hello from Belgrade. ~Nena >> This comment was originally posted here: Polymer Clay Heart Beads
ROMAINA: We have the same problem here, in Romania. This medium is known for about one year, maybe two. We have translated "polymer clay" in two words 'cause we have two words for clay meaning the same thing. Just like French people, they are calling it "pate polymere" and also "argile polymere". Sometimes we are refering to it as Fimo, that's the brand the most popular here, the suppliers also bring Cernit, but it's not so used. We are not calling it plastic even though we state that this is what polymer clay becomes after baking. Indeed it takes time to explain the properties of the clay and many of my customers are convinced that I paint the beads, the millefiori concept doesn't seem to be understood even when I explain it. I'm very curious about what other readers have to say about this problem. ~Squash >> This comment was originally posted here: Polymer Clay in Russia
SOUTH AFRICA: I'm one of the people in South Africa trying out polymer clay and WOH what a wonderful way to form with your hands some bead or heart! I'm now after a year experimenting ready to sell a piece or more. Very impressed with lots of info on the Internet for us. ~Marthi >> This comment was originally posted here: Tear Drop Color Blend Method
---