---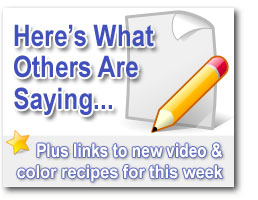 I WISH I had read all your blog articles AND bought the course (which I did a few days ago with birthday money) before I bought a bunch of Sculpey III a couple of weeks ago while it was on sale.  Oh well, at least I have some clay to play with while I'm learning.  I now know first hand that it's too soft to use for canes.  Never having played with polymer clay, I would have thought I was doing something wrong because it was way too soft and I couldn't cut the log without squishing the whole thing flat. On to play some more! ~Joyce >> This comment was originally posted here: Common Polymer Clay Brands

Cindy, You are the best…  I have books, books, and more books but there is nothing like your hands on teaching.  I look forward to each new e-mail and I love your "down to earth"  style. Thank you so much. ~Ginger >> This comment was received via email.

Hi Cindy, I am very pleased with the course.  It is great to have a visual learning tool and the quality of your tutorials is great! There were many things I wouldn't have known if not for your helpful tips.  And your service is wonderful! I can't believe how much I got for the money. (I'm also a member of your library)  Glad I found you. ~Susan Werner >> This comment was received via email.
Just a short note to say thank you. I recently became a member and bought all your back issues and courses and am really glad that I did so. I love your style of tuition. You are clear and informative and the quality of video is great. I have bought so many books and watched other videos, but you have taught me so much more. Here in Australia the tutorial level of polymer clay that I have come in contact with is not great and very expensive. I now can proceed with confidence and I have a permanent resource to check with if I falter! I look forward to further tuition and thank you again. All the best. ~Cara >> This comment was originally posted here: Popular Polymer Clay Beads

Hi Cindy. There are not enough words to describe all the wonderful and helpful information I've received from your polymer clay bead making for beginners course video. You're step by step instructions are great, and I can stop the video and start it where ever I need to.  I refer  back to the video when I get stumped or just need a refresher.  Please email me when you've finished the next course, I promise to purchase it.  Newbee and learning more every day thanks to you. ~Paul >> This comment was received via email.
Cindy, Where I come from Nobody does or has even seen polymer clay. I live in a small town in Minnesota, and drive an hour to buy my clay. I look at books but it isn't the same as seeing it done. What you do is great. What I've seen so far in the beginners course, I have learned a lot and best of all I can do it!! ~Sharon Betts >> This comment was originally posted here: Learn How To Make Polymer Clay Beads

Hi Cindy, I found the course to be very helpful, I wish I had gone on to the next course instead because I had been doing most of what you showed. I will get more courses, you do a wonderful job. Thank You. ~Diane >> This comment was received via email.
Hi Cindy, I looked over my new video subscription today, and it's awesome!! Know that I will have to return again (mannnyyyy times)!!!! You've definitely given me the initiative, and I loved your method of teaching — just matter of fact, and unlike most with an attitude (You are learning from a Rocket Scientist!!) Ha! Ha! Thanks again, and I'll be back to look over the tutorials I purchased today.   //  Would have come sooner, but I'm computer illiterate. Ahem! (it could be that I'm 64 and these things just don't come to easily). Obviously I did something right though, because I was able to access the entire program I purchased. It had to have been my prayers to Jesus, because it was really getting to me.  //  Thanks again, and by the way — I'd highly recommend your course to anyone. I plan on getting onto the Google and putting your name out. You are an exceptional teacher, and very gifted!!!! With Appreciation. ~Diana >> This comment was originally posted here: How To Make Polymer Clay Beads and Canes
Hi all, After searching the web, youtube and buying some very good books. I decided to buy the basic course for beginners and I was hooked. I signed up as a member and Cindy's videos are very informative, clear and concise, I highly recommend her!!! The way I looked at it, I was paying only about $3.00 a month a lot less than all the clay I have wasted. If at any time I am not satisfied I can cancel with no problem, although I highly doubt it!! I am just a satisfied customer and do not know Cindy personally! ~Tinuke >> This comment was received via email.
Dear Cindy, The course is great! I knew something about polymer clay, but no so much, after the course my interest is always increasing and I'm able to do a lot of things. Now I'm selling more creations to my friends, cause they want to have the jewelry that I weare. Thank you Cindy, I'm a fan of your work. Kind regards. ~Amada Salva >> This comment was received via email.
Good morning Cindy.  I just wanted to say thank you for your website and videos.  The website is easy to navigate and the free videos have been great.  I am going to order the course as soon as I finish this email to you. I have been crafting for years and since HGTV has changed their craft show format,  I look to the internet for more instructional sites.  I am chronically ill ( for 21yrs. now) so it is hard for me to attend a class.  People like you make it possible for me to enjoy doing crafts that I might otherwise not get to do.  Thank you for sharing your knowledge and using your great teaching skills with others.  God bless you.  Sincerely. ~Zoe >> This comment was received via email.

Cindy – I think your course is excellent.  I had never even attempted bead making and you explain everything so simply and easily that I caught on right away.  I've made a lot of "practice" beads and even a simple cane so far.  Can't wait to get into it in more depth.  I continually go back and re-read your videos – great presentations. ~Susan Sabine >> This comment was received via email.
I watched all the tutorial videos that I purchased and wanted to say that you motivated me so much that I am very anxious to get back to the United States to get my supplies to start… thanks so much for all your hard work putting the videos together. They were great! ~Charlene Patane >> This comment was received via email.
I got six out of ten right, too! I know I'll be watching the video course again soon! :-) In my defense though, I've been concentrating on my flower petal beads and experimenting with Premo, Fimo and Kato translucent clays. Each one is unique and they each seem to react differently with different flowers. This was a great quiz though, Cindy! Thank you! ~Marsha >> This comment was originally posted here: How To Make Beads
---